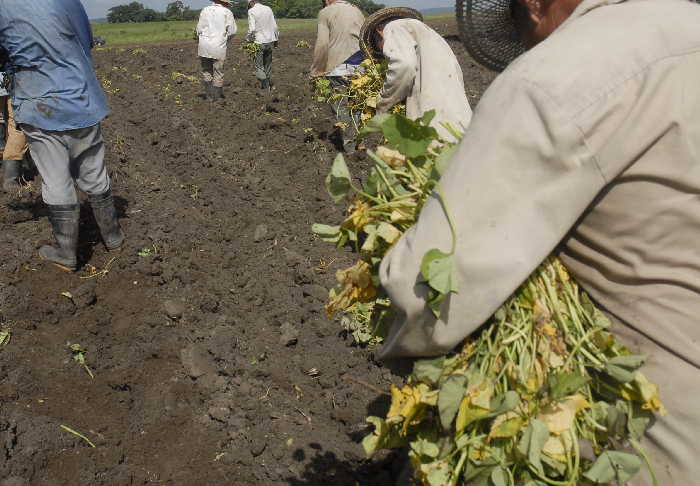 The document also allows beneficial owners to voluntarily join as workers of these entities, which stately manage the exploitation of areas
New modifications to the legal norms for the delivery of idle state lands in usufruct, which provide more guarantees and benefits to workers in this condition, were released here today.
The Decree – Law 358/18 and its Regulation 350/18, (published by the Official Gazette of Cuba), implement the policy for the concession of those areas and incorporate the modifications approved with the objective of resolving aspects that still limit its application and facilitate further progress in this process.
The legal director of the Ministry of Agriculture, Orlando Díaz, told the press that this regulation has as background the Decree Law 259 of 2008 and the 300 and its regulation, of 2012, which led to the delivery of idle state land and stimulate the incorporation, permanence, and stability of the labor force in the sector and definitive family settlement.
According to the executive, the new decree and its regulations include, among the main modifications, authorizing natural persons who receive land or who have already received land, so that they can be linked to agricultural, sugar or forestry companies.
The document also allows beneficial owners to voluntarily join as workers of these entities, which stately manage the exploitation of areas.
In addition, it increases from 13.42 hectares to 26.84 the maximum land area to be delivered in usufruct to natural persons who request it for the first time for agricultural and forestry production.
Likewise, the more than twenty main changes include as a novelty the authorization of delivery to people of idle lands of commercial livestock, for breeding and fattening, until their use is demanded, according to the development program of this branch.
This measure excludes areas for milk production, which have their program, and also those of genetic livestock, according to the legal head of Cuban agriculture.
For his part, the director of Soils and Land Control, Eddy Soca, pointed out that a decade after the beginning of the delivery of land in usufruct, this process shows growth of 5.3 percent in the annual production of root vegetables, 6 of corn, an 8 of beans, a 6 of wet rice, and a 6 percent of fruit trees.
In addition, among others, the bovine livestock number increased in the decade by 833,000 heads, and there were increases in milk and beef.
According to the official, 289,474 land applications have been made, of which 244,851 were approved, of which 241,604 are natural persons and 3,247 are legal persons (cooperatives and other entities).
The director of the National Tax Administration Office, Arelys Pérez, and Ana Margarita Mártin, director of Policy and Projections of the National Institute of Social Security also offered data on the scope and benefits of the regulations.