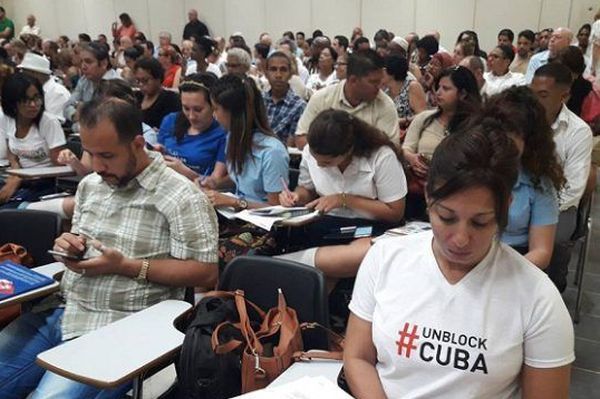 More than 130 organizations are participating on Friday in the 15th Civil Society Forum
Representatives of more than 130 Cuban organizations are participating on Friday in the 15th Civil Society Forum, a space where they will ratify the condemnation to the U.S.-imposed economic, commercial and financial blockade against the Caribbean nation.
The meeting is an opportunity to demand the total elimination of this qualified action of economic warfare, in accordance with the provisions of the Declaration concerning the Laws of Naval War, adopted by the London Naval Conference in 1909, several participants stated.
Washington intends to surrender by hunger the Cuban people with this strategy, the president of the Cuban United Nations Association, Fermin Quiñones, stressed in a news conference.
The meeting will reenact the validity of the demand the Cuban people presented in 1999 to the United States government for human damages, he explained.
Quiñones also announced that a final declaration is expected to be delivered to the Ministry of Foreign Affairs to support the Cuban government's demand for the elimination of what is considered an act of genocide under the Geneva Convention of 1948 on the Prevention and Punishment of the Crime of Genocide.
For the 27th consecutive time since 1992, the UN General Assembly will vote on October 31 a draft resolution on the need to end the island's blockade, whose damages are estimated at $933.6 million USD.
In the 26 previous times, the international community demonstrated, with the vote of its leaders, its outright rejection of the U.S. criminal policy.