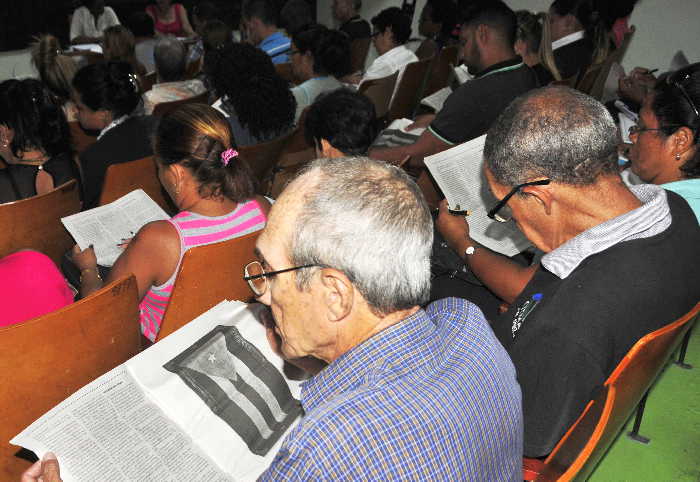 Edelio Torres, of the Temporary Committee to develop this process in Sancti Spíritus, described the debates in the pilot assemblies of the territory as very contributing.
The beginning of the popular consultation on the Draft Constitution of the Republic in this central province is today described as a successful exercise of democracy, of the people"s expression in the major decisions of the country.
This was expressed by Edelio Torres, of the Temporary Committee to develop this process in more than 6,250 meetings in workplaces, schools, armed institutions and neighborhoods in this territory.
He told Prensa Latina that the study prior to the letter of the constitution in the workplaces and neighborhoods is of great value, so criteria and contributions flow to have a modern Constitution according to the current and future strategy of the nation.
The debates in the pilot assemblies in the Sancti Spiritus municipalities have been helpful, due to a generalized interest in enriching the Draft Constitution that will be endorsed by the People's Power National Assembly next year, he said.
He urged that most of the meetings for the popular consultation will be held in September and October, in which about 120 people will participate to facilitate speeches in each meeting.
A vital step so everyone can participate in the analysis is to know and study in advance the Draft Constitution, he said.
In Yayabo village, the consultation began with the workers of the Ministry of Science, Technology and the Environment (CITMA), who made substantial proposals and reflections with ethics and respect, Torres said.
The process to enrich the so-called Law of Laws starting on Monday, August 13, on occasion of the 92nd anniversary of the birth of the historical leader of the Cuban Revolution, Fidel Castro (1926-2016), will last until November 15.