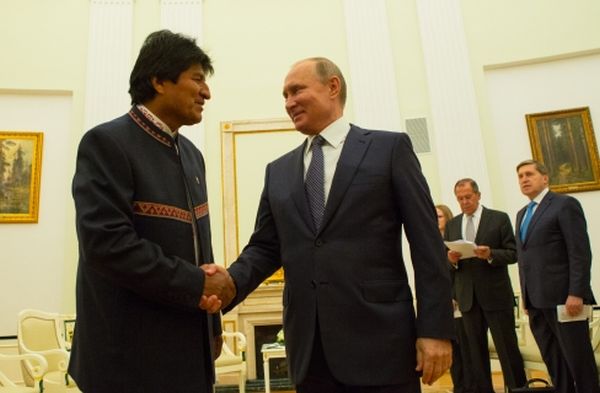 Evo Morales will discuss relevant bilateral issues with his Russian counterpart Vladimir Putin
The Bolivian president will develop a large working agenda in Russia, including economic, cultural and technical-military cooperation, Russian Ambassador Vladimir Sprinchan announced.
The invitation to President Morales is not only for the opening of the soccer world cup, it is a good opportunity to analyze the state of bilateral relations, said the diplomat interviewed in the Anoticiando program of the ATB network.
'Russia is now open for Bolivia, to help it in its development, now we have some projects with Gazprom, our most powerful hydrocarbons company in Russia and well known in the world,' he said.
Gazprom is present in Bolivia since 2008 and appreciates that there are very good conditions for work here, he said.
Now, he said, agreements are being prepared to build a national hydrocarbon system by 2040, in addition to contracts for the construction of liquid gas plants, to supply cars with that fuel.
He mentioned that among the projects that the Eurasian nation has with Bolivia is the construction of the Nuclear Research Center in the La Paz municipality of El Alto.