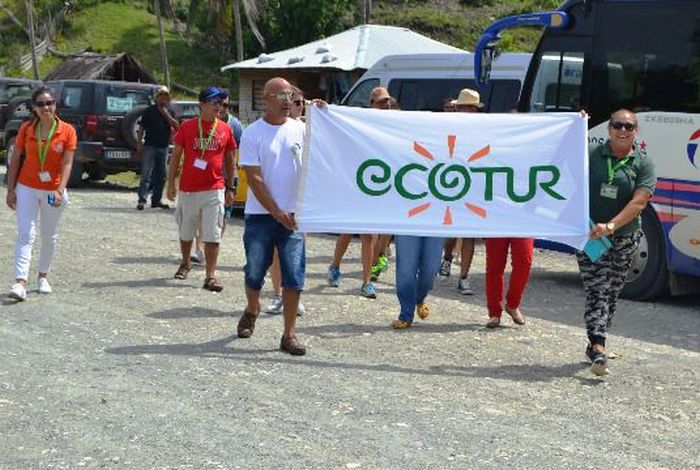 The nature tourism event TURNAT 2017 is being shared by the eastern Cuban cities of Holguin and Baracoa
Experts in nature tourism from around the world have received a warm reception in eastern Baracoa, the first city founded by the Spaniards in Cuba in 1511.
Attendees at the 11th International Nature Tourism Event, TURNAT 2017, traveled more than 180 kilometers from Holguin yesterday to reach the Alejandro de Humboldt National Park and to be attended by local guides and managers.
At a lookout, in front of Taco Bay, the groups organized to enjoy and observe different trails coincided to fraternize with local people who know the region. TURNAT brings together about 150 experts in nature, adventure and rural trips from 16 nations, a figure confirmed today.
There, they knew that this National Park is the major one in Cuba because of its biodiversity in flora and fauna, when it is considered the largest remainder of the best preserved mountain ecosystems.
This park was declared a UNESCO World Heritage site and has as its main place, the Cuchillas del Toa Biosphere Reserve.
The region covers an area of 70,680 hectares, 2,250 correspond to marine ecosystems and the remaining is terrestrial surface.
The Park is divided into four departments: Cupeyal del Norte, Ojito de agua, La Melba and Baracoa, structure for a better management and conservation.
These are sites of mountains, rivers, green vegetation that rises despite cyclones and other evils that attacked it some few years ago.
TURNAT attendees will stay until Sunday, October 1, in this city, and they will know different trails, one of the most interesting ones is the ascent to El Yunque in Baracoa, a mountain which resembles a plateau that gives the name.
The five-hour walk for about 10 kilometers allows great views of the region and around Baracoa.