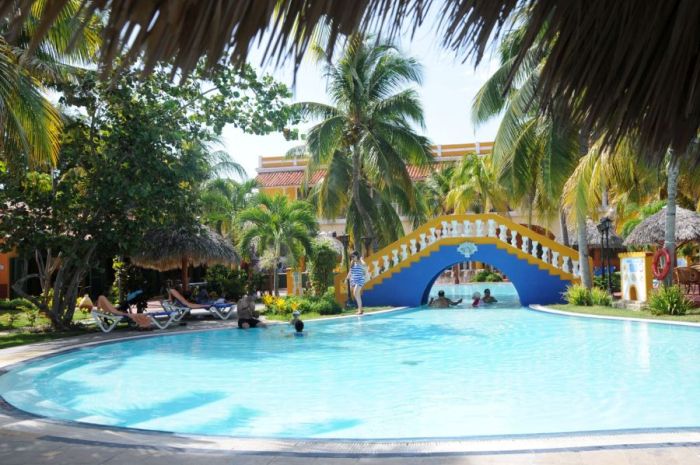 Cuban Ministry of Tourism leaders have confirmed that all the tourist facilities of the country will be ready for the high season
The tourist facilities run by Gaviota Hotel Group in Topes de Collantes and those subordinate to Cubanacan SA in Trinidad, central Cuba, are already in operation, according to a statement from both entities which was quoted by Prensa Latina news agency.
The return to normality in these facilities implied the coordinated work and great effort by managers, specialists, technicians and the rest of the workers in the sector, following the recent passage of Hurricane Irma along the northern coast of the Cuban archipelago.
Hurricane Irma-Affected Resorts Reopen in Cuba
The Cubanacan Group also reported operation in Santiago de Cuba, Holguín, Guardalavaca, Gibara, Camagüey and Santa Lucia, while the Bravo Caracol hotel will be available in the coming days. On the other hand, the Club Amigo Mayanabo Hotel, the ROC Santa Lucía and Brisas Santa Lucía will be reopened during the second half of September.
According to the same tourist group, Cayo Coco and Villa Clara resorts are already recovering, and are expected to reopen sun. Hotels are also available in Remedios (Villa Clara province), Matanzas, Varadero, the Zapata Peninsula, and in Havana, except for the Tropicoco and Chateau Miramar facilities.
The Hotel Comodoro is also operating, although maintenance actions in the electric service are being carried out. Likewise, there is the possibility of resorts of Viñales, Soroa, Las Terrazas and Cayo Levisa.
For its part, the Gaviota group said that all hotels will be operational for the high season, usually extended from November to April, and that air travel is already possible to Havana's Jose Marti International Airport.
In the case of Varadero tourist area, most of the hotels are open with the exception of Meliá Península, Paradisus Varadero and Ocean Varadero, still immersed in the recovery stage.
Gaviota executies also referred to the work underway in Villa Clara's keys in order to restore the road that links them with the island, while the Cayo Coco embankment is already re-established.
Hotels in Holguín and Baracoa (Guantanamo) are fully operational, said the tourist group.