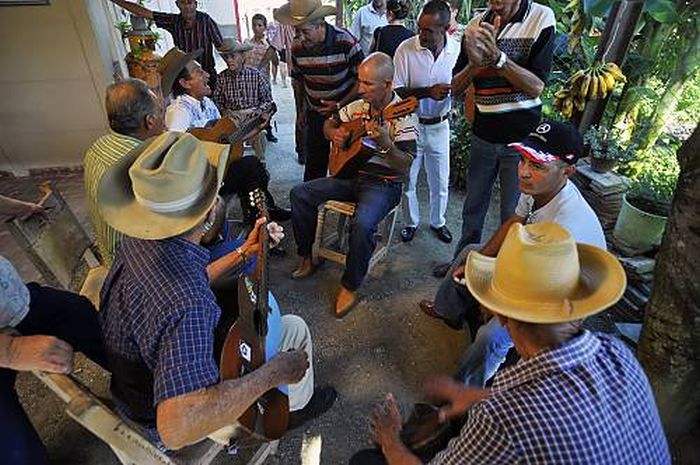 The Intergovernmental Committee for the Safeguarding of the Intangible Cultural Heritage has decided to include "punto cubano" or "punto guajiro" (a sung gender of the Cuban country music) in its representative list, UNESCO reported
Gathered this week in Jeju island, in the Republic of Korea, 'punto cubano' was approved to enter that list. It includes forms of expression that testify the diversity of the intangible heritage and contribute to raise awareness about its importance.
According to the statement released by the UNESCO headquarters in Paris, 'Punto' is the poetry and music of Cuban peasants, consisting of a tune or melody over which a person sings an improvised or learned stanza of ten octameter verse lines, with a rhyming scheme.
The note also stated that the techniques and knowledge related to 'punto guajiro' are transmitted essentially on imitation, and also through a teaching program organized in Houses of Culture across the country, involving workshops taught by bearers and practitioners of the gender.
The candidacy file submitted by the Caribbean nation stated that 'Punto is the poetry and music of the Cuban peasants,' and although it is practised in the countryside, variants now exist throughout the rest of the population.
In addition to 'punto cubano', other eight new elements were inscribed today on the list of Intangible Heritage, they are the ritual journeys in La Paz during Alasita, in Bolivia; the Kochari, a traditional Armenian dance; and Konjic woodcarving, in Bosnia and Herzegovina, among others.
In 2016, Cuba included 'rumba' in the list of Intangible Cultural Heritage of Humanity, a recognition to that musical and danceable genre representative of the culture and tradition in the Caribbean nation.