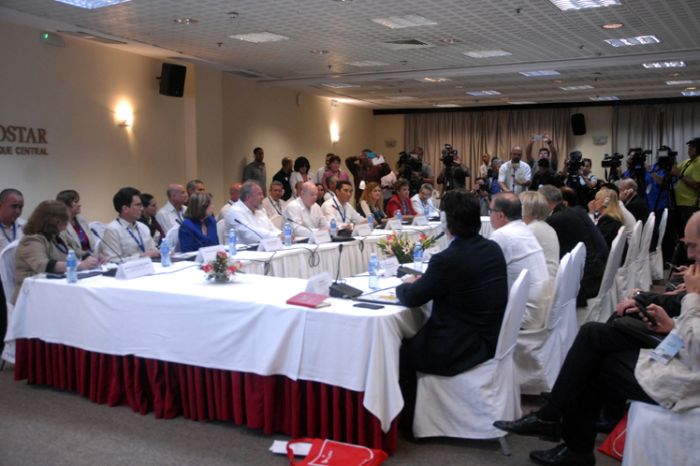 The Cruise Lines International Association (CLIA) began yesterady a two-day meeting in Havana as part of its foray into Cuban tourism.
Due to the boom of tourism in Cuba, CLIA organized at the Parque Central Hotel in Havana the first symposium on cruise journeys, in which the main managers of 12 cruise companies, especially from the United States, participate.
Rodrigo Malmierca, Cuban Minister of Foreign Trade, Investment and Foreign Collaboration, mentioned in the opening ceremony the benefits and potential of Cuba for cruise ships, as well as the details to be targeted by business with this country.
The meeting was also attended by minister of Tourism Manuel Marrero and head of the General Direction of the United States of the Ministry of Foreign Affairs Josefina Vidal.
Amid the companies participating in the meeting are American Cruise Line, Virgin Voyager, Carnival Corporation and Pic, Holland American Line, Carinval Cruise Line, MSC Cruises, Norwegian Cruises Linea Holgings, Royal Caribbean Cruises Ltd. and Club Cruises.
The meeting is also attended by Silversea Cruises, Celestyal Cruises and Disney Cruises Line.
Currently, the companies Carnival Cruise Line, Royal Caribbean Cruise Line (RCCL), Norwegian Cruise Line Holding (NCLH) and Pearl Seas LLP, are operating in Cuba with results considered by authorities as mutually beneficial.
Spokespeople said that Cuba seeks to implement a large program of port infrastructure targeting cruise activities in different ports of the country.
They also said that the economic and commercial blockade set up by the United States against Cuba for more than 50 years hinder the development in this field, as well as others in the country.
Cuban tourism has had a steady rising trend in the most recent years, while envisaging an increased number of hotel rooms, reaching 130,000 ones in the next 10 years.
Cuba is expected to be visited by the unprecedented total number of 4.7 million foreign tourists in 2017.
These sources also pointed out that Cuban ports and their terminals are certified according to the International Ship and Port Facility Security Code (ISPS Code).
Cuban authorities have also signed memoranda of understanding (MOU) with nine port authorities in the United States (Virginia, Louisiana, Lake Charles and New Orleans, Alabama, Gulf Port, Pascagoula, Houston and Cleveland).
Until late October 2017, a steady flow of tourists aboard cruise ships was reported, with the main docking port in Havana, a city that has been already visited by 28 cruise ships, with more than 270 port calls.
A report issued on November 4th by the U.S.-Cuba Trade and Economic Council, Inc.,headquartered in New York, indicated that three U.S. cruise companies, which include Cuba in their journeys, will have incomes of $ 623 million USD from 2017 to 2019.
According to that report, the 286 trips to Cuba expected to be made in those years by Norwegian Cruises Lines (NCL), Carnival and Royal Caribbean will carry 455,000 passengers.
The Cruise Lines International Association (CLIA) is made up of the 25 most important cruise lines in the United States, and it is the largest cruise association in the world, seeking constantly promotion and development.