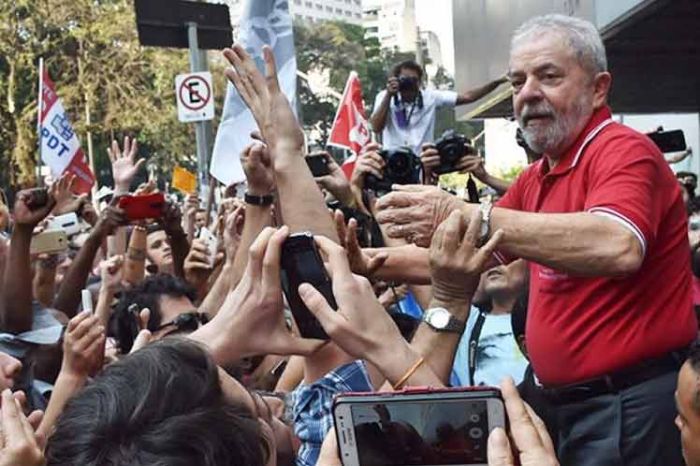 The founder of the PT is convinced that the Brazilian people can once again have opportunities, employment and possibilities to study
A meeting with the rectors of federal universities and institutes will mark the beginning of the penultimate day of the Caravan of Hope, which led by former President Luiz Inácio Lula da Silva tours Minas Gerais.
The meeting will take place in the historic city of Diamantina, where last night the founder of the Workers Party (PT) said he was convinced that 'we will win the 2018 elections.'
If the PT allows me to be a candidate, I will win to do much more than what we already did (during 12 years of government), stated the former dignitary, who also promised to end 'that history' of being selling the country.
The founder of the PT said he was aware that the Brazilian people can once again have opportunities, employment, possibilities to study and have self-esteem.
He also warned the nine families that monopolize the media in the country, and that 'they do not stop telling lies all the holy day,' in their intention to democratize that sector too.
Lula alluded to the judicial persecution that he has been subjected to for three years by the Lava Jato operation and said that they continue to accuse him because they believe that with one of these processes they will be able to reach him and prevent his candidacy for next year's elections.
They make the same mistake as the crown, he said, referring to the 18th-century assassination of Tiradentes, leader of the mining flame, who was not only killed, but also dismembered for his independence ideas.
The meat can kill itself, but not the ideas, the former president stressed before affirming that 'if Lula bothers a lot of people, millions of Lulas make them even more uncomfortable'.
On his penultimate day of stay in Minas Gerais, Lula will also be received in the municipality of Cordisburgo, birthplace of the writer Joao Guimaraes Rosa, whose House-Museum is scheduled to visit.
The Lula for Brazil project is a joint initiative of the PT and the Perseu Abramo Foundation, which recently launched the citizen participation platform 'The Brazil that the people want', with the aim of developing a strategy for the future of the country.
The first stage of the so-called Caravan of Hope lasted from August 17 to September 5, in which time he toured the nine states of the Northeast of the country and visited 58 cities.