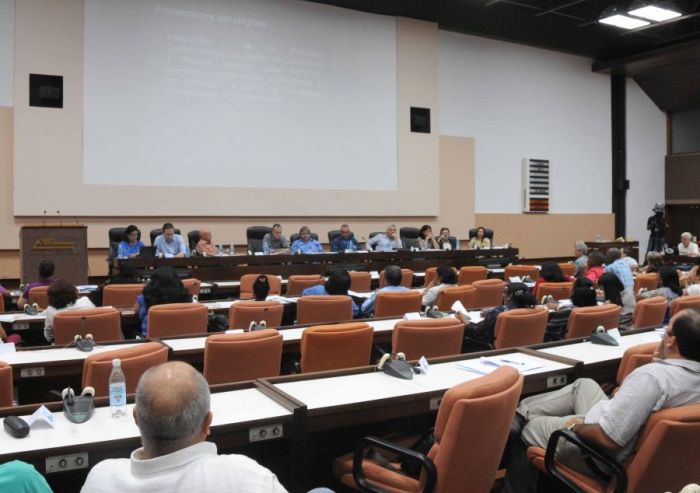 Cuban parliamentarians analyze today the implementation of the capacity recovery program in the food industry
Cuban parliamentarians are analyzing today the implementation of the capacity recovery program in the food industry during the third and final working day of the Permanent Committees of that legislative body.
Lawmakers will also receive information from the Ministry of Finance and Prices on the treatment given to social indisciplines, illegalities and corruption.
They will also follow up the impact of the community projects on the preventive work, facing social indisciplines that affect daily life in the different territories, and will discuss other issues of national interest.
The Parliament's Committee on International Relations approved yesterday a document supporting the Cuban government's statement on U.S. President Donald Trump's directives on the island, issued on June 16 in Miami.
The text, read by the president of that working group, Yolanda Ferrer, confirms the expressed will of the Cuban people to continue the socialist course of their Revolution, despite threats and external pressures.
The document also points out that this policy taken by Washington harms the Cuban people, as well as the interests of broad sectors of the U.S. society, and urges the world to demand the Congress of that northern nation to end the hostility against the island.
Among other issues, lawmakers assessed the productive and social situation of the mountainous areas affected by climate change, the deterioration of traditional crops, the workforce deficit and the exodus, and reviewed the strategy in coordination with legal institutions for a better process of delivery of justice in the country.
Legislators highlighted on Monday, July 10, the broad position Cuba has maintained in the international arena, as well as the strong support of the Cuban National Assembly to the progressive processes of the Latin American region against the reactionary offensive of the rightwing.
In the Committee on Economic Affairs, Cuban Economy and Planning Minister, Ricardo Cabrisas, informed that the Caribbean island is working on updating its portfolio of business opportunities, which will be released in October.
The document will be made public in the context of the 35th International Havana Fair, in which more than 450 projects in several sectors of the economy will be recognized, Cabrisas says.
Following the conclusion today of the work of the permanent commissions, prior to the Ninth Ordinary Period of Session of the Eighth Legislature of that body, convened for July 14, legislators will receive information from the different ministries.