The Cuban Ministry of Foreign Affairs has stressed the failure of the anti-Cuban provocation enacted by right-wing organizations in the region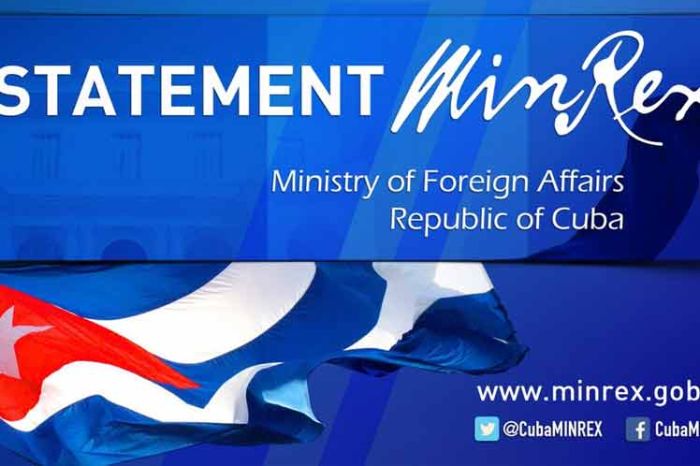 According to a statement issued yesterday, international media reported in recent weeks the intention by Secretary General of the Organization of American States (OAS), Luis Almagro, to travel to Havana to receive an award invented by an illegal anti-Cuban group to the extreme rightwing Foundation for Pan-American Democracy.
That plan consisted in setting up in Havana an open and serious provocation against the Cuban government to generate internal instability and damage the international image of the country, while affecting the good progress of Cuba's diplomatic relations with other states, the statement from the Ministry of Foreign Affairs stated.
According to the text, Almagro himself and some other right-wing members of the so-called Democratic Initiative of Spain and the Americas (IDEA), who has also aggressively acted in recent years against Venezuela and other countries with progressive and left wing governments in Latin America and the Caribbean.
Other organizations with huge anti-Cuban credentials, such as the Democracy and Community Center, the Center for Studies and Management for the Development of Latin America (CADAL) and the Inter American Institute for Democracy, by CIA terrorist and agent, Carlos Alberto Montaner, also participated in this action.
After knowing these plans and enforcing the laws that maintain the nation's sovereignty, the Cuban government denied the entry into the national territory of foreign citizens related to the described events, the statement said.
In consonance with the principles governing the diplomatic relations among states, Cuban authorities contacted the governments of the countries from which those persons traveled and informed, tried to dissuade and prevent the completion of those actions.
Airlines also canceled passenger reservations when they learned that they would not be welcome, as the regulations of international civil aviation establish, the text said.
The Cuban Ministry of Foreign Affairs claimed not to be surprised for the openly anti-Cuban actions and statements made by Almagro and the OAS, because in a very short time leading that organization, he has stood out for generating an ambitious agenda of attacks against the progressive governments of Venezuela, Bolivia and Ecuador.