The Secretary General of the Union of South American Nations (Unasur), Ernesto Samper, said that Bolivia is today the continent's crown regarding economic issues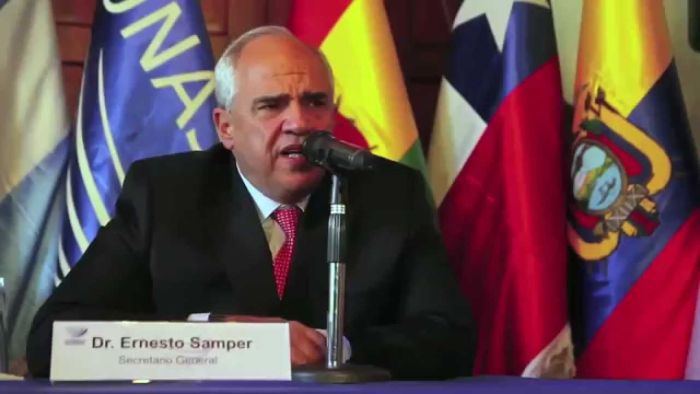 Samper praised the policies adopted by the government of President Evo Morales, which provide positive results, despite the difficulties the region faces due to the falling prices of main export products, both raw materials and derivatives.
In an interview with the state's Bolivia TV from New York, the Secretary General of Unasur stressed that despite the regional difficulties, 'Bolivia is growing and growing well', after the application of the Community Social Productive Economic Model.
In addition, he stressed the significant results in terms of poverty reduction and its declared condition in 2009 as an illiteracy free nation.
In August, the United Nations Development Program said that Bolivia is not in an economic crisis and is the second country in the region with more poverty reduction, according to the report on human development Multidimensional Progress: Wellbeing Beyond income.
On May 1, 2006, the President Evo Morales signed the decree that took the energy resources out of the hands of transnationals in this nation, especially hydrocarbons.
During the period of neoliberal governments (1985-2005), the country accumulated just 4,500 billion dollars through oil revenues. However, in 10 years of governance of the Movement toward Socialism (MAS, in Spanish), that figure rose to 31,500 billion dollars.
According to official data only in 2015 the profits obtained were of four billion dollars, despite the drop in oil prices.
According to the government, these dividends were redistributed more equitably, helped to reduce social inequalities and to reduce poverty significantly.