The 13th plenary session of the Central Committee of the Cuban Communist Party examined several documents to be presented to the 7th Congress of the organization, to be held next April, reports Granma daily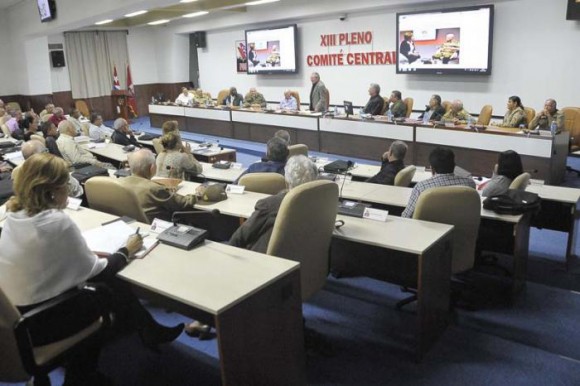 Presided by first secretary of the PCC, Raul Castro, at the meeting was discussed the conceptualization of the Cuban Economic and Social Model for socialist development, on which members of the CC had previously emitted some 600 opinions.
Member of the Politburo and head of the Permanent Commission for the Implementation and Development, Marino Murillo Jorge, explained that all opinions are being processed to submit to the 7th Congress a higher quality document.
In general, there is consensus on the importance of defining the theoretical basis and essential characteristics of our economic and social model, he added.
The document that will finally be approved is not static but dynamic and it will keep being examined in the period between one congress and the next.
In this two-day meeting, described as fruitful, a report on the Program of Economic and Social Development until 2030 was presented, "Proposal of Vision of the Nation, the Strategic Axis, Objectives and Strategic Sectors", question on which work has been done since 2012 and which will be equally submitted to the consideration of the delegates at the top party meeting, adds Granma.
This development program is oriented to solve the structural problems of the economy, by government policies with integral and sustainable focuses, which respond to a strategic consensuated vision in the middle and long terms.
At the meeting with the attendance also of the members of the Council of Ministers, an evaluation was made of the results of the implementation of the Directives of the Economic and Social Policies of the Party and the Revolution, as well as its updating for the next period.
In this regard, attendants highlighted how much has been advanced in the five-year period, even though they still do not have a real impact on family economy and all the way still to go to comply with what was approved in the 6th Congress.
As it was reported, in the last five years some 21 percent of the 313 directives have been carried out, while still 77 percent of them are in process.
The members of the CC also received an information on the results of the reorganization process of the external debt of the country, by Vicepresident of the Council of Ministers, Ricardo Cabrisas Ruiz and, in particular, details of the agreement reached with the Club of Paris, according to the source.
Granma informed that in next editions the newspaper will report on other issues discussed by the 13th Plenary meeting of the CC.