Mexico today celebrates national holidays for the 206 anniversary of Independence, with the traditional military parade where thousands of troops and military means involved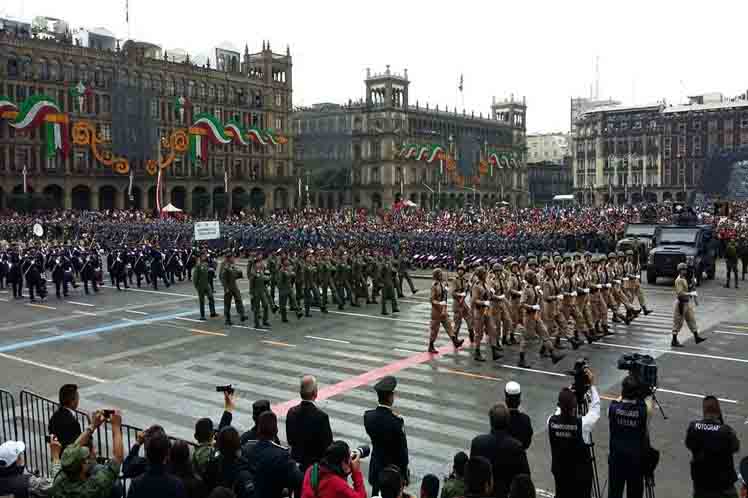 Led by Mexican President Enrique Peña Nieto, the parade involves more than 23 thousand items of the Armed Forces and the Federal Police, sources said here.
The march includes 149 aircraft, 448 vehicles, 23 boats, 35 golden eagles, 266 horses, 65 dogs, 48 flag and a monumental war, according to media.
Among the new features, the military parade will begin with the flight of an eagle, represented in the shield and the flag of Mexico on the Zocalo.
Meanwhile, as traditionally, at 11 pm on September 15 known as the Griot de Dolores was performed at the National Palace, located in the Zocalo.
Each year, the president of the nation is responsible for ringing the bell of Dolores, brought in 1896, cheer Miguel Hidalgo, Jose Maria Morelos and Josefa Ortiz, among others, waving the flag and give a !Viva Mexico! at the end.
El Grito de Dolores is considered the act that started the War of Independence of Mexico. The priest Miguel Hidalgo y Costilla, in the company of Ignacio Allende and Juan Aldama, made the call to his parishioners to rise up against the colonial authority of New Spain.
It happened at dawn on September 16, 1810, for which Hidalgo tolled one of the bells of the parish of Dolores, today municipality of Dolores Hidalgo, in the state of Guanajuato.
The fireworks are part of the show each year with the Grito de Dolores, while the immense ornaments date, located in the Zocalo, show their colors, using LED technology.
Ornaments prevail in green, red and white, colors that identify the national flag. So Mexico celebrates in these two days of September, which is called the Month of the Fatherland.