US Secretary of State, John Kerry, received in Washington the Cuban Minister of Foreign Trade and Investment, Rodrigo Malmierca, and members of the delegation that accompanies him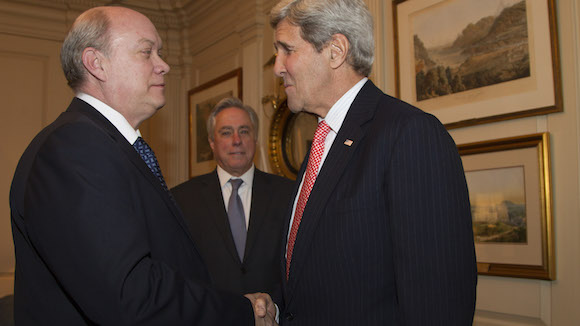 The meeting took place at the headquarters of the Department of State, during the last of the four days of work of the Cuban representation, comprising officials of the Ministry of Foreign Trade, the Ministry of Foreign Affairs, the Central Bank, the Chamber of Commerce and companies.
Malmierca and his companions are meeting a broad agenda here, marked by their participation in events and meetings with officials and leaders of U.S. companies.
The meeting with Kerry occurred few hours after the announcement by the White House of President Barack Obama's trip to Cuba, on March 21 and 22.
The second regulatory dialogue between the two countries was held at the Department of Commerce, a mechanism created to advance trade ties, from the executive measures of Obama to change the blockade imposed on the Greater Antilles.
Also they met the US-Cuba Council of Business, in the Chamber of Commerce, and the consortium of Cuba, at the U.S. Institute of Peace.
During the forums and meetings ratified the will of Havana and Washington move towards the normalization of relations and the interest of U.S. companies in doing business with the island.
Malmierca insisted that the existing economic, commercial and financial blockade constitutes the main obstacle to the links.
He acknowledged the packages announced by Obama last year to modify the siege, but considered them limited in their impact on sanctions, from the continuity of the ban to Cuba from using the dollar in transactions and financial persecution, among other actions.