The open area of Castillo de San Salvador de La Punta exhibits the monument and commemorative plaque that distinguishes Havana as one of the seven modern wonders of the world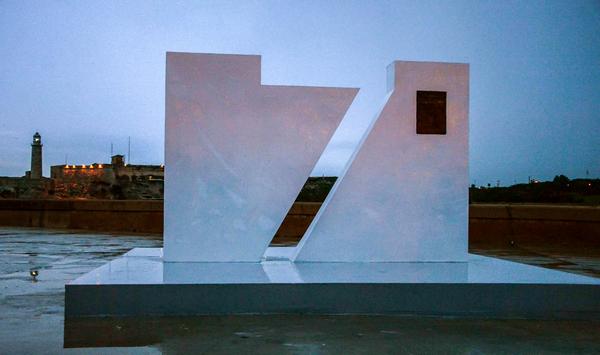 During a ceremony held yesterday night, a white rectangle-shaped sculpture was unveiled by the president and founder of the Swiss foundation New7Wonders, Bernard Weber. The entity is responsible for the online contest that awarded the Cuban capital.
After expressing satisfaction for being here, Weber said amid a steady rain that Havana, Cuba's wonder city, has entered the memory of the world with this distinction.
For her part, the president of the People's Power Provincial Assembly in this capital, Marta Hernandez, described the emotional and historical act that proclaims Havana among the most extraordinary cities in recent times internationally.
'Our city is part of the most significant material culture heritage of the nation and it represents a substantial part of the historical memory with extraordinary architectural and urban values', Hernandez said.
Referring to the peculiarities of Havana, the official stated that the natural landscapes along with the people, distinguished among other cities in the world this old enclave founded in the 16th century.
The recognition was dedicated to the 90th birthday of the historic leader of the Cuban Revolution, Fidel Castro. He delivered Havana historian, Eusebio Leal, a few years ago the immense work whose results we are appreciating today, she said.
After the official ceremony, an artistic gala was held at the Alicia Alonso Gran Teatro in Havana. There, the Spanish and African cultural heritages that currently reaffirm the Cuban identity converged.
The Lizt Alfonso ballet company, the Habana Compas dance company, the National Folkloric Group, as well as performances by Entrevoces chorus and Pancho Amat y el Cabildo del Son group, showed the vast artistic wealth of this island.
Cuban Culture Minister, Julian Gonzalez, and other personalities of the political and social life in this island, attended both festivities to celebrate the new status of the Cuban capital. The historic center was declared for years a World Heritage site by UNESCO.
Havana stands today on the international scene as one of the seven modern wonders of the world along with Beirut (Lebanon), Doha (Qatar), Durban (South Africa), Kuala Lumpur (Malaysia), La Paz (Bolivia) and Vigan (Philippines).
The celebrations for the distinction are planned until Saturday, Jun 11. They include lectures, exhibitions of visual arts, the procession of traditional and contemporary dancing groups, known as "comparsas" at Paseo del Prado and a sports festival.
(Photos taken from http://world.new7wonders.com/)