President Rafael Correa assured Cuba is a champion of solidarity while thanking the assistance provided by the Caribbean island after the catastrophic earthquake that hit the coastal region last Saturday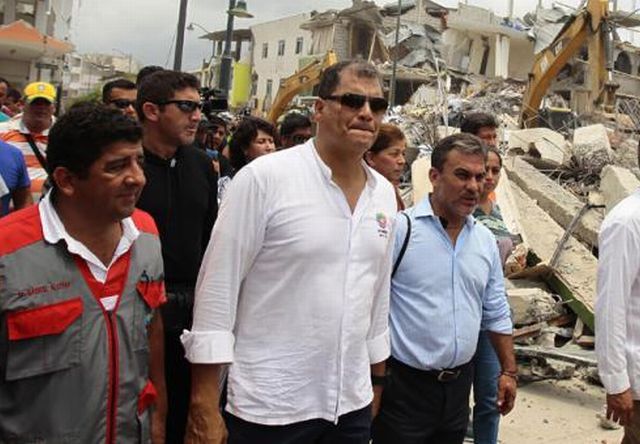 Speaking to Cuban journalists after visiting the makeshift hospital last night installed in this coastal town in the province of Manabi, seriously affected by the earthquake of 7.8 degrees on the Richter scale, the president greeted the members of the medical brigade Henry Reeve.
After the quake, Cuba immediately sent a group of this international contingent of doctors specialized in dealing with disasters and serious epidemics to assist the victims of the earthquake that devastated the northwestern coast of the South American country.
We have the solidarity of Cuba and Cuba can count on the solidarity of Ecuador, said Correa, who emphasized the 'infinite gratitude' of his people to the Caribbean nation and also lamented the deaths of three Cuban doctors who worked as health collaborators in the town of Pedernales at the time of the earthquake.
Bárbara Caridad Cruz, 46 years old; Leonardo Ortiz, 53; and Eric Omar Pérez, 41; all specialists in General Medicine, died last Saturday in Pedernales, at the Manabi province, where they were on a working mission.
The brigade sent by Cuba includes rescuers, in addition to health specialists who joined more than 700 aid workers from this area who have remained permanently in the country for two years as part of 11 agreements signed by both countries.
The head of the Henry Reeve Brigade, José Ernesto Betancourt, told Prensa Latina that since their arrival last Monday to Bahía de Caraquez they began to help the population in a makeshift hospital because the official one collapsed during the quake.
Some members of the contingent moved to the remote communities of Jama and Canoa, where they already attended about 400 patients.
The group of experts is composed of a surgeon, an orthopedic, an anesthetist, a pediatrician, two integral general doctors, two neurosurgeons and nurses.
Also, eight specialists work as paramedics with the search and rescue team also sent by Cuba that is supporting the Ecuadorian authorities in the city of Portoviejo.
So far, the Attorney General's Office indicates that the number of dead people due to the quake is 587, but the search for bodies in the rubbles still continues.