The Cuban Adjustment Act, applied by the United States for 50 years, has continued today as one of the aggressive policies of the northern nation to the island at the migration level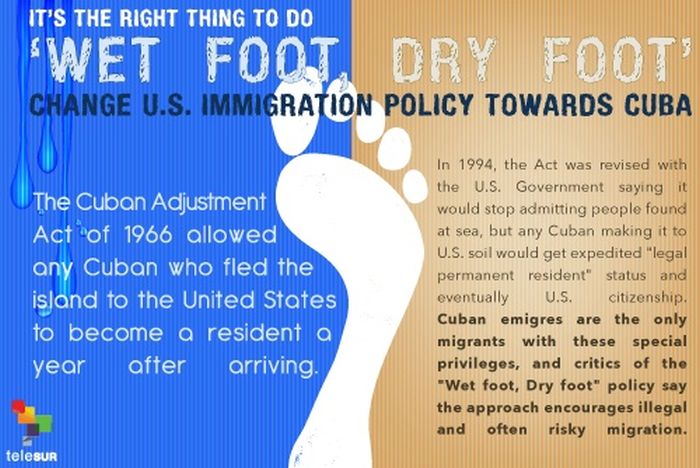 According to an article released today in Granma newspaper, that provision to the Caribbean nation has generated a strong opposition not only in Cuba -a directly affected country-, but also in several Latin American countries that are suffering its collateral effects.
The act, emerged in full Cold War during the administration of Lyndon B. Johnson, has given the Attorney General for, to its discretion, granting permanent residency in the United States to the Cubans who enter U.S. territory 'on parole'.
The preferential treatment, which the US immigration system does not apply to any other nationality, actually seeks to encourage the illegal emigration with destabilizing objectives and is a complement of the economic, commercial and financial blockade on the island, in force for more than 50 years, the cited newspaper recalls.
An approach known as 'the wet-foot, dry-foot policy' was added in 1995 to the application of the Cuban Adjustment Act. It stipulates that those who touch US soil have the right to stay in that nation, but those intercepted at sea are returned to Cuba.
In the text, Granma recalls that 'Washington's decision to use the natural flow of people between the two countries as a weapon of attack against the Cuban Revolution has had critical moments in the past, from Camarioca in 1965 to the 1994 rafter crisis, passing through Mariel in 1980.'
The number of Cubans who could have died in the waters of the Straits of Florida or using other routes over the last 50 years, has been difficult to calculate, the text states.
Following recent migration crises, the two countries signed agreements through which they pledged to work for a 'legal, safe and orderly' migration, the Cuban Adjustment Act and the 'wet-foot, dry-foot' policy contradict those covenants.
According to the island's authorities, the two provisions have been the main stimulus to the illegal immigration, human trafficking, illegal entry to the United States of Cuban citizens through third countries, fraud and falsifying documents.
According to experts, the repeal of the Cuban Adjustment Act is in the hands of U.S. lawmakers, but the elimination of the 'wet-foot, dry-foot' policy would not involve any formalities in the Congress.
According to diplomats, the revision of that policy would be a first step to stop the 'aggravation of this complex situation and start from a definitive solution to ensure an orderly and legal migration in our region.'