The Municipal Assembly of the People's Power in Santiago de Cuba paid tribute to the historical leader of the Revolution Fidel Castro and President Raúl Castro during a solemn act for the 500th anniversary of the city.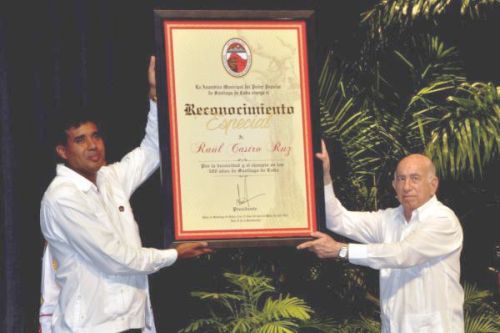 The Assembly's 24th agreement stipulates the tribute to the Cuban leaders, deeply-rooted to this town through the revolutionary fight and love for the city, where they have always been facing battles, glories and natural disasters.
First Vice-President Miguel Díaz Canel and vice-president José Ramón Machado Ventura, along with the 274 delegates and guests from all sectors of Santiago's society, recalled the goals attained so far and discussed the challenges still ahead.
Raúl Fornés, president of the Municipal Assembly, referred to the origins of the village, named after the Spanish holy warrior, boasting a history of rebelliousness and dignity.
Fornés also stressed the example of two heroines born in this land: Mariana Grajales Cuello and Vilma Espín Guillois.