The Conference of Catholic Bishops of Cuba (COCC) highlighted the importance of Pope Francis's visit to the island from September 19 to 22, in a message released today by Granma newspaper.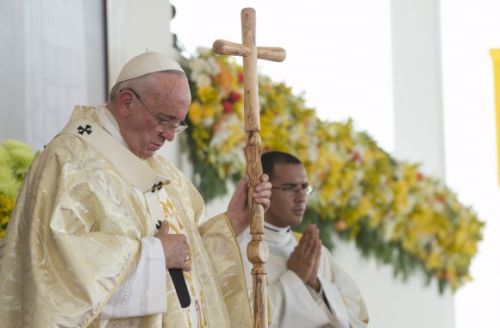 In the text, the Episcopal Conference stresses that Francis will be the third Pope that visit Cuba in the last 17 years, after the visits carried out by John Paul II in 1998 and Benedict XVI in 2012.
Thus, in September, Cuba and Brazil will be the only countries in the world that will have the privilege of being visited by three Popes, the COCC said after also stating that "the children of the Church on the island, and many Cubans more, received with great joy the news of the visit His Holiness will make to our country."
As the Catholic Church of the Caribbean nation has said, "the Holy Father wants to show us his closeness at a time when, also thanks to his mediation, air of hope in our national life are breathed due to the new possibilities of dialogue the United States and Cuba are taking place."
On the other hand, the COCC recalled that since his election as Pope Francis, it never tires of talking about mercy, and said that "His Holiness wants to invite us to not get tired of practicing."
For this purpose, the Bishops of Cuba called that, " as an immediate preparation to the Pope's visit, the first Friday in July, August and September, in every community and every heart that want to join us, acts of mercy are made for those who need it as special times of prayer and fasting."
The COCC also invited communities to program a prayer vigil for the evening of September 17, to September 18.