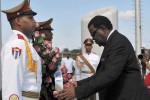 Prime Minister of Namibia, Hage Gottfried Geingob, laid a wreath at the monument to Cuban National Hero Jose Marti, at Havana's Revolution Square.
At the end of the ceremony, the Namibian official highlighted the long-standing friendly links between Namibia and Cuba and the possibilities of cooperation opened with a business forum, in session here as of today.
"This is only the beginning, and we hope to achieve a higher level of cooperation," said Geingob, who arrived to Cuba Monday as part of a state visit.
According to the program, the Havana-based Cohiba Hotel is the venue of the forum organized by the Chamber of Commerce, aimed to give the visiting Namibian delegation an update on new investment and collaboration projects, as part of ongoing economic changes in Cuba.
Discussions are expected to focus on mining, renewable energy sources, agriculture, health, food industry, construction, urban planning and education.