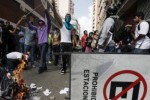 Venezuelan Deputy Foreign Minister for North America Claudia Salerno agreed with experts about the situation generated by the right wing in the country, which points to the same policy applied by the United States in the continent.
Those actions are designed in the United States, a strategy that incites violence among citizens, on the basis of civic nuisance, Salerno said on Saturday, on a state channel
Venezolana de Television news program.
Support for violent groups has been systematic, not to oppose, but to destabilize the country, she noted.
On the other hand, Governor Alexis Ramirez denounced in the state of Merida the presence of three alleged paramilitaries in the town of Vigia.
The group, whose members speak with Colombian accent, was presented to the Prosecutor's Office.
Regarding the situation in the western state of Tachira, the minister of Foreign Affairs, Justice and Peace, Miguel Rodriguez, who visited the region two days ago with officers
from the Bolivarian National Armed Force, explained that he was working to normalize the situation in San Cristobal, the state capital.
We are here to normalize the economic activity and the good functioning of this city, he said.
We are going to work with dialogue, peace messages, so this city can return to normal, he stressed.