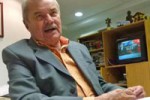 Venezuelan journalist Eleazar Diaz Rangel, director of the Ultimas Noticias newspaper, denounced the existence of a media trend that promotes tension in society and encourages violence in the country.
In his Sunday column, the communicator said that in front of this stance, there are media that are inclined to dialogue and search of understandings for peace.
Diaz Rangel also referred to his participation in the International Media Conspiracy Forum against Venezuela, which took place on June 5 and 6 in the capital.
In this regard, he commented the pressure from the United States late last century to stop the debates of New World Order of Information and Communication, aimed at preventing the spread of communication initiatives in the developing world, how information is power, and were robbing small portions to the all-embracing control the trans nationals have at its services, they could not tolerate it, he said.
If they did it then, when they were not 'threatened', can be explained why they do it now, with all their forces and instruments concentrated in a few hands, with Venezuela at the epicenter, he stressed.
Currently, in the case of Venezuela the political triumphs have been multiplied and as a result, beyond a media campaign today they should talks about plot and conspiracy against the government, he expressed.