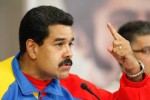 The position of Venezuelan Government after right-wing actions, aimed at fostering destabilization in the country, considers defense of sovereignty a priority to face the United States" interference.
President of the Republic Nicolas Maduro refuted a statement issued by U.S. Department of State and said that Venezuela will have a firm hand against fascist groups that boost violence.
Maduro declared that he asked Venezuelan Foreign Minister Elias Jaua to declare three officials of U.S. Embassy "persona non grata", after denouncing their participation in plots against the Government.
Venezuelan Government also rejected statements of U.S. Secretary of State, John Kerry, claiming that they boost and legitimize the attempts to destabilize the country triggered by violent groups in recent days.
The Foreign Ministry said that the United States lies when questioning the existence of human and democratic rights in the country.
Venezuelan institutions, established in a State of Law and Justice, guarantee all citizens the exercise of political rights in a scene marked by broad civil liberties secured by the constitution, it also said.
Mercosur Condemns Violent, Destabilizing Actions in Venezuela
The member states of the South Common Market, Mecosur, condemned all type of violence and intolerance aimed at attempting against democracy and its institutions, no matter its nature, due to violent coup actions in Venezuela.
In a communique released on Sunday evening, the Argentinean Foreign Ministry expressed the position of that regional group, which is also formed by Brazil, Paraguay, Uruguay, and Venezuela.
The Mercosur member states express in the communique their rejection to criminal actions by violent groups who want to spread intolerance and hate in Venezuela as a tool of political fight.
The regional bloc members also strongly reject threats of breaking the democratic order lawfully constituted by the people's vote and reiterate their firm position in defense and preservation of the democratic institutionalization.
They also urged the parties to continue holding talks on the national problems, in the framework of the democratic institutionalization and the state of right, as it has been promoted by Venezuelan President Nicolas Maduro Moros in the last few weeks.
Maduro has called all the sectors of the society, including Parliament members, mayors, governors from all political parties, to channel a life in peace and harmony in the country.
The Mercosur member states finally expressed their most sincere condolences to the families of those killed in riots, and their confidence that the Venezuelan Government will continue with its efforts to keeping peace and full guaranties for the whole population.