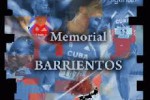 Barrientos Memorial Athletics match was concluded with the records set by Sahily Diago in the 800 meters and pole vaulter Yarisley Silva.
Diago, 18, was the main figure at the event, conquering a time of 1:57.74 on Sunday, a historic record for the Barrientos.
The previous record (1:58.77) had been achieved by world champion and Olympic medallist Ana Fidelia Quirot, in 1997.
"The goal was to reduce time. I am not an athlete with many strategies. I go for a run and that is all," Diago told reporters after finishing the race.
She is one of the strong candidates to win at the upcoming Under-20 World Championship.
Meanwhile, Silva introduced a new record for the event with a jump of 4.60 meters, but was not satisfied, because she failed three times at 4.75.
"It is not easy to jump that high, but it is one of the marks that I have repeated most in my life and so I cannot be satisfied, because I aspire to more," she told reporters.
The 4.40 prevailing so far was also her own, scored in 2009.
Silva, a champion at the World Indoor Games in Sopot, Poland, in March, Olympic runner and third place winner at the Outdoors in Moscow, 2013, said that the headwind was one of the factors against her.
"I lack impetus at the moment to throw myself back with hard poles, and I guess that, along with the strong winds, was what set me back," she added.
In the men's 800 meters, Jorge Liranzo repeated the story of the last Copa Cuba, and surpassed Pan American monarch Andy Gonzalez by a few hundredths of a second.