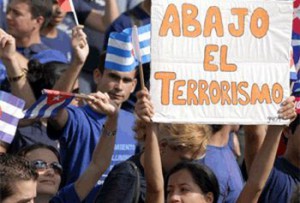 Forces from the Cuban Interior Ministry detained four Cuban-born citizens settling in Miami, when planned to execute terrorist actions.
A note from the Interior Ministry says the detention took place on April 26, and the detainees are named Jose Ortega Amador, Obdulio Rodriguez Gonzalez, Raibel Pacheco Santos and Felix Monzon Alvarez.
According to reports, the detainees recognized they pretended to attack military facilities with the objective of promoting violence.
For such purposes, three of them had travelled many times to the island since 2013 to study and model the execution.
They also said those plans have been led by terrorists Santiago Alvarez Fernandez Magriña, Osvaldo Mitat, and Manuel Alzugaray, who also live in Miami and maintain a close relation with infamous terrorist Luis Posada Carriles.
The Cuban Interior Ministry stated that the country is carrying out the necessary arrangements with U.S. authorities to investigate the facts and timely avoid that the performance of terrorist elements and organizations settled in that northern nation endanger the life of people and security of both nations.