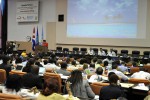 Cuba develops a comprehensive plan of prevention and facing an Ebola epidemic, trying to minimize risks of introduction and transmission of the infection, assured Jose Angel Portal, first deputy minister of Public Health.
In a technical meeting with experts being in Havana, Portal explained that the strategy introduced in the island includes the reinforcement of points of entry to the country, a strict control of the passengers, above all those coming from affected regions.
Besides protection measures in workplaces and the community which take part in prevention actions, strengthening interdisciplinary actions, epidemiological and hospital monitoring of the units designed for attention.
He indicated that to apply these principles, the Ministry of Public Health in coordination of the National Civil Defense and other State entities, they created a work group to monitor the situation nation and worldwide.
The plan also tries to adjust medical institutions to the task, to identify needs and capacities of diagnoses at the Institute of Tropical Medicine "Pedro Kouri", on the formation process of personnel which include treatment activities and control of the disease.
He stressed the importance of complying with health legislation, particularly, biological security and the elaboration of a comprehensive social communication program that properly guides the population.
He also urged for common action because the only way to prevent being infected is through intense preparation.
Participating in the meeting were health authorities of Venezuela, Uruguay, Ecuador, Mexico, among others.
The coordinator of the Ministry of Health of Antigua and Barbuda asked for the help of Cuba to prepare their health personnel.
Specialists and health officials of over 30 nations debate in Havana on issues of prevention strategies and facing Ebola virus in this hemisphere.
This meeting was approved by the extraordinary summit of the Bolivarian Alliance of the Countries of Our America, held in Havana last October 20.