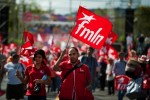 About five millions of Salvadorians are voting today for the new president of the Republic, in crucial elections for the process of democratic and social changes started in 2009.
The president of the Supreme Electoral Court (SEC), Eugenio Chicas, ratified on a national radio and television chain on Saturday evening that elections will be transparent and safe.
Chicas said that everything is ready for the elections and a vast National Civil Police and Armed Forces operation is on its way to guarantee order.
In another message to the nation, President Mauricio Funes said on Saturday evening that elections will be free, decent, and transparent.
Four millions 955,107 people over 18 years old are registered to vote and they are exercising their right to vote in 1,591 polling stations nationwide.
According to the results in the latest polls, of the five parties registered at the SEC, the leftist Farabundo Marti for the National Liberation and its presidential candidate Salvador Sanchez Ceren have the highest possibilities of victory, even in the first round of the elections today.