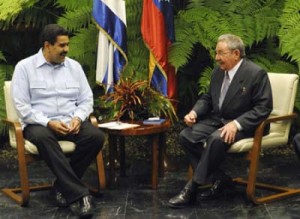 President Raul Castro held a working meeting with the statesman of the Bolivarian Republic of Venezuela, Nicolas Maduro.
The Venezuelan president is in Cuba as the leader of his country's official delegation, participating in the 2nd Summit of the Community of Latin American States (CELAC).
Raúl and Dilma Inaugurated Mariel Port Terminal
Raúl Castro Confident in Socialist Future
Brazil Fosters Commercial, Economic Alliance with Cuba
Leaders Present in 2nd CELAC Summit in Havana, Cuba
During the fraternal meeting held last night, both leaders ratified a mutual interest in strengthening bilateral economic collaboration, inspired by the founding principles of the Bolivarian Alliance for the Peoples of Our America (ALBA).