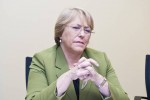 President Michelle Bachelet traveled to northern Chile this Tuesday to assess the damage from an earthquake last night that registered 8.2 on the Richter scale, causing at least six deaths and still uncalculated damage.
The president is being accompanied by the ministers Alberto Undurrago, Ximena Rincon and Helia Molina, of Public Works, Presidency and Health, respectively. Justice, Energy, Transportation and Housing ministers are also headed to the area.
"We will be in the field, working with emergency committees and assessing needs," said Bachelet, who declared a state of disaster in Arica, Parinacota and Tarapacá.
Senior army and air force officials were reportedly sent to the area in order to "take control of public order and prevent looting."
Bachelet confirmed that classes remain suspended in the region.
More than 900,000 people were evacuated from areas near the Chilean coast after a tsunami warning was issued by the Navy's Hydrographic and Oceanographic Service, although during the last few hours the order was canceled and citizens began to return home.
The National Seismological Center at the University of Chile reported that in recent hours there were some 60 aftershocks, 11 of them greater than 5.0.
The earthquake occurred at 23:46 GMT Tuesday, with epicenter at the seabed southwest of the city of Iquique, approximately 1,850 kilometers from the capital.
Interior Minister Rodrigo Peñailillo confirmed the death of six people in Iquique and Alto Hospicio, four men and two women.
The six deaths were caused by "crushing force and heart attacks," said Peñailillo.
Specialists consider Chile to be one of the territories with most seismic activity worldwide due to its location within the so-called "Ring of Fire."
The earthquake in Chillán, in 1939, is considered to have been the most devastating in the country's history, with 5,648 fatalities.
On February 27, 2010 an 8.8-magnitude earthquake, in the central and south, left 526 dead, 800,000 homeless and $30 million USD in losses.