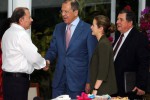 The unilateral world order is a thing of the past, Russian Foreign Minister Sergei Lavrov said on Tuesday at a meeting with Nicaraguan President Daniel Ortega.
Lavrov, who arrived in Nicaragua from Cuba as part of a Latin American tour, said that Russia favors including the region in this multilateral world order.
When referring to Nicaragua, the Russian foreign minister recalled that the two countries are celebrating the 70th anniversary of diplomatic relations this year, and they have a tight and broad common agenda.
The head of Russian diplomacy added that during his visit to Nicaragua, he will discuss issues of international policy to "synchronize the clocks" and agree on actions regarding the world and regional agenda.
For his part, President Ortega expressed the Nicaraguan people's gratitude for Russia's solidarity after the earthquakes that shook the country after April 10.
Nicaragua and the member countries of the Bolivarian Alliance for the Peoples of Our America (ALBA) agree to defend international law regarding the situation in Ukraine, said Ortega.
He explained that the region is committed to peace, and Nicaragua supports Russia's initiatives to find a peaceful solution to those conflicts. The Nicaraguan head of State added that the path of force, threats and sanctions does not lead anywhere, on the contrary, it generates more destruction, instability and insecurity, and that affects the rest of the world.
Ortega noted that he hoped that good sense and reason will prevail to resolve the conflict in Ukraine.