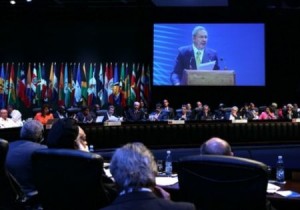 Dialogue and cooperation were established in America Latina and the Caribbean with the proclamation of the region as a peace zone, and were reaffirmed in the Declaration of Havana.
Members of the Community of Latin American and Caribbean States (CELAC) signed during their Second Summit in Havana both documents, which ratify the banishment of the use of force and agression threats for the solution of conflicts.
"Being aware that peace is the most precious good and legitimate wish of all peoples and that its preservation is a key element for the integration of Latin America and the Caribbean and a principle and commun value of CELAC", the text of the programme expresses.
The Declaration of Havana indicates that the Community is underpinned in the unconditional respect for the Charter of the United Nations and the International Law, the peaceful solution of controversies, the respect for self-determination, sovereignty and the no interference in each country's internal affairs.
CELAC stressed the relevance of the Treaty of Tlatelolco for the prohibition of nuclear weapons in Latin America and the Caribbean which established the first free zone of nuclear weapons in a densely populated area, being this a contribution to peace, and regional and international security.
It reiterated the urgent need for a general and complete nuclear disarmament, so as the commitment with the strategic programme of the Agency for the Prohibition of Nuclear Weapons in Latin America and the Caribbean, adopted by CELAC members.
Furthermore, the Declaration of Havana expresses the support to the process of dialogue which is being carried out in this capital between the government and Colombia Revolutionary Armed Forces, and celebrate the achievements accomplished in two important aspects of the programme.
"We urge the sides involved to continue a process aimed at ending an internal conflict that for more than 50 years has affected the political, social, and economical development of this sister nation", the documents states.
The Second Summit of CELAC was concluded yesterday, with the participation of mandatories from 29 countries and an elected president, Michelle Bachelet from Chile, who held exchanges and talks for two days.