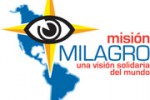 More than 2 577 000 people have recovered or improved vision today, thanks to Operation Miracle, a Cuban-Venezuelan program underway in many countries and whose benefits were recognized here by health authorities.
Pilar Gonzalez, director of the Uruguayan National Rural Health Plan, told Prensa Latina that the Jose Marti eye center, where more than 40,000 free surgeries have been carried out, has been operating in her country since 2007.
"We are very grateful for the Cuban collaboration. We consider this an example of international solidarity," said Gonzalez, who attended the annual assembly of the World Health Organization (WHO).
The also assistant minister of the Health Ministry stated that a team of Cuban and Uruguayan physicians make weekly visits to small towns and rural areas throughout the country, to detect patients suffering from many eye afflictions and have them sent to Montevideo.
A great number of people suffering from cataracts and other diseases improved their vision and with it, their quality of life, Gonzalez said.
Not only adults but also children are being assisted at the Jose Marti eye center. It is also a center to train human resources and research.
The Operation Miracle program emerged in 2004 on the initiative of the leader of the Cuban Revolution, Fidel Castro, supported by Venezuela. Its objective is to assist low-income people who have become blind from curable causes.
The program expects to operate on some six million patients in countries of Latin America, the Caribbean, Africa, and Asia.
The World Health Organization stated that about 80 percent of the total of cases of visual impairment can be avoided or cured.