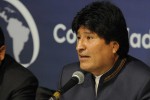 President Evo Morales stated that he feels strong enough to continue leading his country five more years, alluding to his candidacy for re-election in the October polls.
Morales met with leaders of the trade union in the department of Oruro, in a meeting in which the executive secretary of the Bolivian Central Trade Union (COB), Juan Carlos Trujillo, participated, and referred to his intentions to fight for the presidency in the coming elections.
"I have gained experience in eight years in the presidency and I feel strong enough to continue five years more and I want to have your support," said the head of State, who thanked the COB for its support, after some differences between both sides.
"Perhaps we have some discrepancies, but when we think of the country and when we lead it transparently, reason must prevail and not the caprices of interest groups," the first Bolivian indigenous president stated.
Meanwhile, Morales expressed the admiration Bolivians feel for the union entity, and admitted that there will always be some pro-imperialists, pro-capitalists, but he was satisfied with the COB determination to defend and continue implementing the cultural democratic revolution. "We will never allow a return of the right-wing."