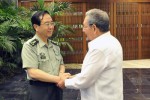 Raul Castro, met with General-Colonel Fang Fenghui, member of the Central Military Commission and Chief of General Staff of the Chinese People's Liberation Army (PLA).
Fang is carrying out an official visit to Cuba leading a Chinese military delegation, on an invitation by the Ministry of the Revolutionary Armed Forces (MINFAR).
During his stay here, the military delegation held exchanges with the MINFAR leadership, in the framework of the historic relations existing between both armed institutions, according to a report published by Granma newspaper today.
The members of the Chinese delegation, as well as army corp generals Leopoldo Cintra Frias and Alvaro Lopez Miera, Minister and Deputy Minister of the FAR's General Staff, respectively, attended the meeting.