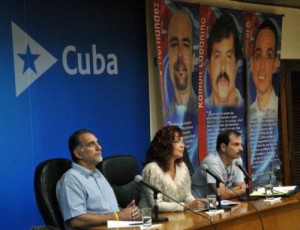 Cuban antiterrorist fighters René González and Fernando González reiterated the request made to the US government to stop injustice against the three fellow comrades who are still held in federal prisons.
They were both the main participants in the Washington-La Habana video-conference held at the Ministry of Foreign Relations, within the framework of the denunciation and solidarity days recently dedicated to the Cuban Five, in Washington.
World Demands Freedom for The Five in Washington
The two anti-terrorism fighters, who are already back with their relatives in the island after serving their unfair sentences, said that they won't feel really free until Gerardo Hernández, Ramón Labañino, and Antonio Guerrero are returned as well.
The Third Five Days for the Five, organized by the International Committee for the Freedom of the Cuban 5 , was closed this Tuesday, June10th, after having carried out an intense program which concluded with a conference on future US-Cuba relations.
In addition, a pacific walk took place from the White House to the Department of Justice, while visits to the Capitol Building to exchange with legislators.