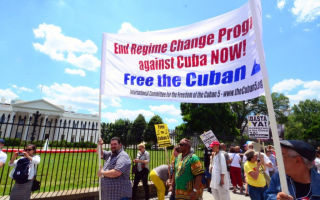 The solidarity campaign that has drawn representatives from nearly 30 countries, demanding the U.S. government the release of the Cubans being held prisoners in federal prisoners, is heading into the home stretch this Monday.
Since June 4, lawyers, parliamentarians, religious representatives, writers, artists, union members, and friends of the cause of the Cuban Five, as Gerardo Hernandez, Ramon Labañino, Antonio Guerrero, Fernando Gonzalez and Rene Gonzalez are known, are looking to increase the political pressure from here to reach a resolution to the case.
To that end, the program paid close attention to the future of United States-Cuba relations, through different panels that addressed updates on the case, the history of terrorism against Cuba, and current cultural exchanges.
During the closing session of the conference held on Friday, peace activist Cindy Sheehan called for a political movement of such proportions that it will be unsustainable for the administration of Barack Obama to keep Hernandez, Labañino and Guerrero prisoner any longer.
Book launches, documentary screenings, a peaceful rally in front of the White House demanding the release of the Cubans who fought terrorism, as well as the release of Puerto Rican independence leader Oscar Lopez Rivera, have been the focus of discussions during the event.
Participants in the campaign, organized by the International Committee to Free the Cuban Five, paid tribute yesterday to former Chilean Foreign Minister Orlando Letelier and his assistant Ronni Moffit, murdered in Washington in 1976.
Gerardo Hernandez, Ramon Labañino and Antonio Guerrero, along with Fernando Gonzalez and Rene Gonzalez (who have returned to Cuba after completing disproportionately long prison sentences) infiltrated violent groups settled in southern Florida.
Francisco Letelier, son of the former Chilean diplomat, said he was 11 years old when his father was murdered as a consequence of terrorism, and joined the demand for the release of Gerardo, Ramon and Antonio.
In 2005, a group of U.N. experts concluded that the detention of the Cuban Five was arbitrary, and requested that the U.S. government remedy the situation, but almost 16 years after their arrest (on September 12, 1998), three of them still remain in U.S. federal prisons.