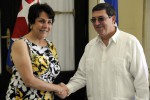 Cuba and Honduras bet on dialogue and cooperation, the foreign ministers from both countries agreed in Havana today.
The Honduran Minister of Foreign Affairs and International Cooperation, Mireya Agüero, was welcomed at the Cuban Ministry of Foreign Affairs by her peer Bruno Rodriguez, with whom she held official talks.
Agüero, appointed during the government of Porfirio Lobo and ratified by current President Juan Orlando Hernandez, expressed gratitude to Cuba for the service given by a medical brigade that is working in the Central American country since 1998.
The first solidarity response to our people after the passing of Hurricane Mitch come from Cuba, said Agüero, who stated that the Cuban health assistance to Honduras's  needy sectors is a characteristic feature of the bilateral ties.
On the other hands, the Cuban foreign minister praised the dialogue between the two countries, and expressed the island's willingness to strengthen cooperation with the Central American country.
Both nations re-established diplomatic relations in December 2002, broken off in 1961 when Cuba was expelled from the Organization of American States (OAS) by U.S. pressures.