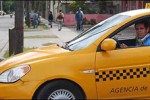 Cuba will extend a new management model for the taxi service agencies giving services in Convertible Cuban Pesos (CUC, equivalent to US dollars in Cuba) experimentally applied since 2010 in Havana.
According to a report published by Cuban newspaper Granma, the regulation will come into force in the different regions of the island step by step.
Cuban Transport Ministry expert Deborah Canela said the model consists on renting the vehicles to the drivers, who will become self-employed workers, instead being included in the enterprise payrolls.
"Since the restructuration was experimentally applied, it offered positive results," Canela said.
Besides a change in the image of the vehicles, the new administration model also made possible an increase of the quality of the service.
Under this administration model, taxi drivers take the maintenance, fuel supply and repairment expenses with their own incomes.
The possibility to incorporate other drivers who are the owners of their own vehicles to the taxi service agencies is included, but only if they can fulfill determined technical and comfort requisites.
This experience is part of the wide process of transformation for many services, approved during the 6th Congress of the Cuban Communist Party. The government wants to extend the experience through the whole country before the end of 2014.