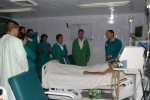 Cuba's Council of Ministers approved a salary increase for the health sector during a meeting on Wednesday headed by President Raul Castro.
Government minister Marino Murillo said that the salary increase, to be implemented as of June 1, will benefit over 440,000 health workers, Cuban television reported.
Those who are acting as directives in the sector will receive a new salary according to their post, while doctors, dentists, nurses, technicians and other workers will also have a double pay for night shifts. The increase will also include current payment in Cuban Convertible Pesos or CUC for doctors, dentists and other professionals in collaboration missions abroad.
Murillo said that the salary increase has as an antecedent the restructuring of medical services on the island and the contribution by health workers who are offering services in other countries.
During the meeting, President Raul Castro praised the humanitarian treatment given by Cuban doctors to their patients, which is against any kind of discrimination and he pointed to the prestige gained by Cuban medicine around the world, given the high level of professionalism in the sector.
The salary increase is in keeping with the economic and social guidelines adopted by the 6th Congress of the Cuban Communist Party held in 2011, which refer to the increase of medical services and the improvement of working conditions and attention to health workers.