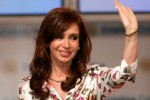 Argentinian president Cristina Fernández will travel to Havana to participate in the 2nd Summit of the Community of Latin American and Caribbean States (CELAC), to be held at the end of January, Chief of Staff Jorge Capitanich told the press.
Capitanich said the president, who is appearing at a public event tonight, will keep her international agenda and travel to Cuba to participate in the regional event next January 28th and 29th.
According to the regional integration mechanism's statutes, Cuba is the pro tempore host of the 2nd CELAC summit, where the achievements of the past year will be reviewed and issues of regional interest will be discussed.
The last time Fernández appeared at an official event was on December 19 and her last address was on December 10th during the celebration for the 30th anniversary of the restoration of democracy.