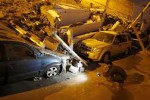 Chilean authorities are working to restore services in the country's northern area affected on Tuesday, April 1, by a 8.2-degree quake that killed six people, and a 7.6-degree aftershock that occurred last night.
Public Works Minister Alberto Undurraga told the ADN radio station that the main need is to restore electricity and water service.
"We have advanced, but our work was set back due to the aftershock occurred yesterday," the official said.
Meanwhile, Chilean social, students and union organizations today started collecting aid for the victims of a 8.2-degree quake that occurred in the country's northern zone.
The Students Federation of the University of Chile carried out a campaign to send non-perishable foods, blankets, tools, and personal hygiene articles.
Chilean Red Cross president Lorenza Donoso reported the opening of a bank account to collect funds to aid the victims.
The University of Chile's National Seismological Center reported today that more than 50 aftershocks after the quake measuring 7.6 on the Richter scale that hit the country's northern area yesterday evening.