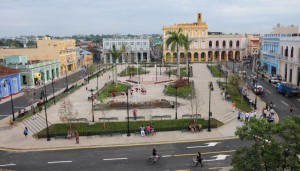 With the official acknowledgement of Pueblo Viejo as the foundation site of Sancti Spiritus, the opening of several constructive works, and the protagonism of Plastic Arts among the cultural proposals, the celebrations for the 500th anniversary start in the 4th Cuban village until upcoming June 8th.
Cuba: Tourism Works Boosted for Sancti Spiritus 500th Anniversary Sancti Spiritus 500th Anniversary: Serafín Sanchez Park under Repair (+photos)  
The first activity of the program is sheduled for Tuesday morning at the Serafín Sánchez Park, totally renewed, which will be inaugurated today. Pueblo Viejo—located some 6 kilometers east of Sancti Spiritus—will officially be recognized as the first settlement of the village this June 3rd, when an allegorical plaque is placed at the location.
The Plastic Arts will unite the festivities with an exposition by the City Painter, Antonio Díaz, at the venue of the Union of Cuban Writers and Artists (UNEAC, for its Spanish acronym) in the province; the photo exhibition Raíces, of renowned artist Raúl Abreu, will also honor the 500th anniversary of Sancti Spiritus at the Art Gallery Oscar Fernández Morera.
The City Hall will also open at the gallery with the annual City Awards in the fields of Plastic Arts and Photography, according to the program.
The first segment of the miniature of Sancti Spiritus village, located in the Interpretation Center, will also be present as well as the exposition Sancti Spiritus Through Time, by Raúl García (GARAL). Among the constructive works to be inaugurated are the Serafín Sánchez Valdivia Park, the Boulevard Leisure Club, and the Don Florencio Hostel.