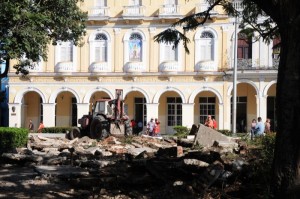 Serafin Sanchez Park is being submitted to capital restoration.
This year, the seats of the most frequented park of Sancti Spiritus, in central Cuba, were not there to welcome lovers on February 14th. Nor will the area host the traditional book event to be held at the end of this month in the territory.
Unmistakable Colonial-Styled Sancti Spiritus
Preamble to Half-Millennium Celebration
Sancti Spiritus, ancient and beautiful village
Sancti Spiritus's Yayabo River Cleaned Up on Occasion of 500th Anniversary
That is because the almost one-century-old Serafin Sanchez Park is also getting ready to celebrate the upcoming 500th anniversary of the village.
Like several other sites of the city, this central park is being submitted to capital renovation. It is said that some of its original features will be returned, with a few necessary adjustments. The park will keep the palm trees, the statues, and the decorative flower pots, while new lamps, and benches made by local artists will be placed.
Sancti Spiritus Serafin Sanchez Park will certainly look difference after the repair. No matter what, it will continue to be the perfect place for meeting any time day and night.
[nggallery id=87]
Published by Aracelia del Valle in her blog www.mymarvelousyayabo.wordpress.com