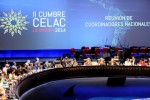 The national coordinators of the Community of Latin American and Caribbean States (CELAC) member nations, meet in Havana this Saturday, prior to the summit, at which they will set the common stance about important regional and international issues.
The national coordinators, most of whom are foreign ministers, should reach consensus on the Havana Declaration and about 30 special communiqués ranging from support for Argentina's sovereignty over the Malvinas (Falkland) Islands, the blockade of Cuba, the defense of natural resources and the rights of native peoples, among others.
Cuban Foreign Minister Bruno Rodriguez stated on Friday that those documents have been under discussions for several weeks, and added that the Havana Declaration has received broad consensus.
The meeting of national coordinators is taking place behind closed doors and it could have several sessions until the greatest possible consensus is achieved on the proposals stated by the governments.
This meeting will be the step prior to the contacts that the CELAC foreign minister will hold on Monday, January 27, with all countries of the region, except the United States and Canada.
About this issue, the Cuban diplomat said that CELAC has relations with other blocs and countries, but he stated that it works to be the only interlocutor from Latin America and the Caribbean.
The Havana meeting will contribute to the region's strength, unity and sovereignty, Rodriguez noted.
Cuba assumed the pro tempore presidency of CELAC last year, emphasizing the fight against inequality and poverty, as well as further integration of the Caribbean nations.
One of Cuba's proposals is to commit to turning Latin America and the Caribbean into a zone for peace and free of nuclear weapons.