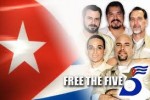 The 4th International Youth Meeting in Solidarity with the Five concludes today.
The meeting, started yesterday at the National School of Cadres of the Young Communist League and in which some 150 delegates from 20 countries are participating, expects to concrete an Action Plan for the working sessions and a Final Declaration.
Gerardo Hernandez, Ramon Labañino, Antonio Guerrero and Fernando Gonzalez are still serving harsh sentences up to double life term plus 15 years in prison, for monitoring Miami-based violent groups operating against Cuba.
Rene Gonzalez, imprisoned with his teammates in 1998, is now serving three years of supervised release in that country, after his release in October 2011.
Delegates learned yesterday about the current situation of the case, and demanded