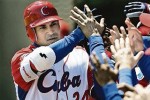 Getting to San Francisco, in the semifinals,  is not a crazy dream; it is true possibility that Cuban players are to defend at the Third World Baseball Classic.Yahoo Dome Stadium, in Fukuoka, Japan, is not opened yet to the matches of Group A in the 3rd WBC, however, expectations and criteria continue to grow among fans in the island.
The Cuban team, a mixture of youth and experience, intends to go far beyond the first stage and classify, along with Japan, for the coming stage of the event.
I do not undervalue Brazil or China. South Americans did the manly deed when qualifying over much baseball countries like Panama and Colombia, while the Chinese are not exactly the reference of the group; their infielder Ray Chang is the leader of the staff (241 ave in the minor leagues in 2012).
In my opinion, we will be fighting in the second stage along with Japan and Korea, with a fourth contender very difficult to forecast, as Taipei, the Netherlands and Australia seem to have equal chances.
How far will Cuba get in WBC? The answer will be based on the certainty of the strategies and the attitude of players. Victor Mesa, Jorge Fuentes and the rest of the staff must be prepared for tight games, so trying to score whenever possible is the greatest goal.
Sancti Spiritus 4 players in the event will be key for Cuba, as Ismel is announced to open the first game vs. Brazil, Gourriel and Cepeda should have important roles in the roster, and Eriel must prove he earned the right to attend the WBC bat in hand.