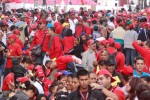 The Venezuelan people rallied today in front of the Miraflores Palace, seat of the Executive power, to express support for the government of President Hugo Chavez, convened by the United Socialist Party of Venezuela (PSUV).
Heads of State and leaders from 18 countries, including Bolivia's President Evo Morales, Nicaragua's Daniel Ortega, and Uruguay's Jose Mujica, participated in this event.
Diosdado Cabello, first vice president of the PSUV, called on Monday militants of this political organization and its allies to take the streets to express solidarity and support for the president, re-elected on October 7 to continue leading the country until 2019.
Parliamentarians, young socialists, students, social organizations and sectors echoed this call to support the president, who is recovering in Cuba from surgery held on Dec. 11.
Elias Jaua, vice president of the PSUV in the capital region, said yesterday that "these are demonstrations as we have always faced to any circumstances where national right and its imperialist masters have tried to disrupt the political stability and the normal development of institutional life of Venezuela."
As established in the Constitution, the elected candidate will take office as president on January 10 of the first year of his constitutional term, through oath at the National Assembly.
However, the Constitution provides that if for any reason (as the president's health situation), could not take possession at the Parliament, he will do it at the Supreme Court of Justice (TSJ).
The swearing can be performed after January 10, 2013 at the Supreme Court and the date of the act will be fixed by this entity once those reasons have concluded, the sentence stated.