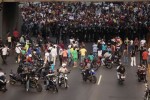 Venezuelan opposition stopped being democratic on Monday to become fascist, affirmed today Minister of Foreign Relations Elias Jaua during a meeting with representatives of the diplomatic missions credited in that country.
Jaua denounced "the terrible events of violence, intolerance and hatred" promoted by the leadership of the Venezuelan opposition.
The minister mentioned the extremist attacks carried out in different states of the nation against seats of Venezuela's United Socialist Party, health and public media centers.
The official held ex candidate Henrique Capriles accountable for calling protests not to recognize the elections that have brought about actions of violence and fascism.
On the other hand, Jaua highlighted that most of the international community recognized the result provided by the National Electoral Council that represents the will of most of Venezuelans.
Jaua praised the solidarity and respect showed to the institutionalism of Venezuela and regretted some exceptions of governments and international organizations that have showed disrespect and interference in the country's internal affairs.