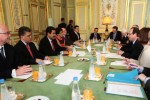 The presidents of Venezuela, Nicolas Maduro, and France, Francois Hollande, today described as very positive their meeting at the Elysee Palace and announced a new stage of bilateral cooperation relations.
Speaking to reporters after the meeting of nearly an hour, the Venezuelan president said before returning home, that in July there will be the fourth high-level joint commission to draw a new map of the links between the two countries.
It was a very positive meeting that marks a new stage in the relations of cooperation between Venezuela and France, the two countries turned engines for very stable and solid ties between Latin America and Europe, said Maduro.
Hollande said that a new document on bilateral relations could be signed before the end of this year or early next year.
The French president said the common will to undertake an expanded alliance between the two countries on the political, economic, cultural and scientific spheres.
The visit to France is the third stage of the first European tour by the Venezuelan leader, which also included Italy and Portugal.
In Italy, he met with President Giorgio Napolitano and Pope Francis, and was recognized by the United Nations Organization for Food and Agriculture for compliance of Millennium Goal of eradicating hunger in his country.
In Portugal, the Venezuelan president closed by the Portuguese Prime Minister, Pedro Passos Coelho, the eighth meeting of the Joint Committee.